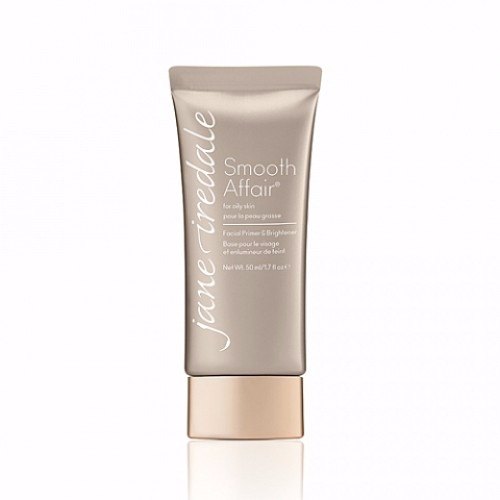 Jane Iredale Smooth Affair ® For Oily Skin Facial Primer Brightener 50ML
Model:
Ask for Price
All countries
Product Description
Jane Iredale Smooth Affair For Oily Skin Facial Primer & Brightener
Create a luminous complexion with this makeup primer.
Bring out your natural radiance with our revolutionary primer, designed to even out skin tone, minimize pores, and visibly reduce fine lines for a smooth, matte finish. Smooth Affair for Oily Skin also fights blemishes and reduces shine.
Your mineral cosmetics stay put for hours with jane iredale Smooth Affair.
The Smooth Affair for Oily Skin Facial Primer & Brightener* is designed for oily and combination skins and is formulated to reduce shine, tackle blemishes, keep oily skin under control and create a smooth matte finish for an even skin tone. It contains grapefruit extract which is meant to help minimise the appearance of pores and wrinkles, and it may help to fade uneven pigmentation; apple extract which is thought to exfoliate, refine and rejuvenate skin; and green tea extract for its believed anti-ageing and anti-inflammatory properties. It colour adjusts to the skin, and should be suitable for a range of skin tones. It's also listed as non-comedogenic, hypoallergenic, clinically tested and dermatologist tested.
Highlights
-Diminishes pores
-Skin will have an all-day mattifying finish
-Reduces breakouts and oil on the skin
-This product is 100% vegan
-Fine lines will be smoothed out making the skin a smooth canvas
Directions
With fingertips, gently apply a thin layer all over the face. Spread evenly until primer has been absorbed. Use with or without a water-based moisturizer.
免責聲明:相片效果因人而異