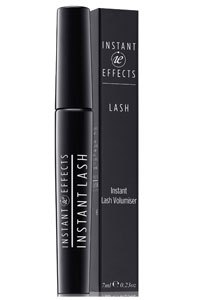 Instant Lash 瞬間濃密睫毛液 7ml
Model:
All countries
Product Description
Instant Lash 7ml
Get longer, thicker lashes in just 2 minutes with this highly advanced clear serum. Not a mascara, it's clinically proven to add volume to your lashes and brows.
- Lashes and brows are 20% thicker in 2 minutes
- Suitable for contact lens wearers
- Conditions and hydrates lashes (ideal if you've been wearing false eyelashes)
- A perfect primer to wear under mascara
- Not tested on animals, vegan friendly
HOW TO USE
Using the wand provided, coat clean lashes evenly from root to tip with Instant Lash. You'll notice a difference in volume within two minutes, and you'll get even better results the longer you use the serum. For dramatic results over time, apply each night before you go to bed. If using underneath mascara, allow the serum to dry for five minutes before applying your usual mascara.
To increase the thickness and volume of your brows, apply each night before you go to bed for a minimum of four weeks. For best results, also apply the serum just above and below the brow.
WHAT TO EXPECT
You can expect longer lashes very quickly, which means that you'll need less coats of mascara - or even no mascara.
The clinical trials found that participants experienced:
- Individual lashes plumped by an average of 20% in just 2 minutes
- Upto 40% increase in thickness of individual lashes after 2 weeks of continued usage.
- Upto 20% increase in length of individual lashes after 2 weeks of continued usages.
- A thicker and fuller brow after 4 to 8 weeks*
*Your brow bulbs will need to be intact to regrow over-plucked eyebrows.
INGREDIENTS
Propylene Glycol, Sodium Polyacrylate, Aqua, Perfluorohexane, Perfluorodecalin, Glycerin Perfluorodimethylcyclohexane, Perfluoroperhydrophenanthrene, Sodium Hydroxide, 1,2-Hexanediol, Caprylyl Glycol, Myristoyl Pentapeptide-17, Benzoic Acid, Sodium Benzoate