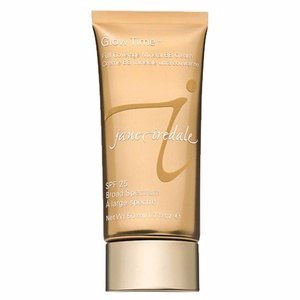 Jane Iredale SPF25 Glow Time Full Coverage Mineral BB Cream BB5
Model:
Ask for Price
All countries
Product Description
Jane Iredale Glow Time Full Coverage Mineral BB Cream #BB5
Try this mineral cosmetics product for a simple routine.
jane iredale Glow Time Full Coverage Mineral BB Cream is a multipurpose product that promotes a healthy complexion. This cream eliminates the need for a complicated and time-consuming routine. Mineral cosmetics provide even coverage and diminish the appearance of fine lines and discoloration. Naturally hydrating ingredients create a soft, smooth and supple texture as well as a dewy glow. This product also contains antioxidants that defend against free radicals and sun protection ingredients that prevent UV damage. Swipe on this BB cream and create a smooth complexion.
Gentle ingredients make this the best jane iredale BB cream.
This product is made with the same unbeatable ingredients in all jane iredale cosmetics. Sunflower seed oil and aloe leaf juice hydrate the complexion while calming inflammation and redness. Apple extract smooths skin to create an even texture while defending against free radicals that cause signs of aging. jane iredale Glow Time Full Coverage Mineral BB Cream features an SPF 25 and is water-resistant for up to 40 minutes. This formula is also hypoallergenic and non-comedogenic so it is ideal for most skin types. Choose from six shades to find the best BB cream for your tone.
Highlights
-Conceals imperfections
-Minimizes the appearance of fine lines
-Protects against environmental damage
-Boosts hydration
-Provides sun protection
Directions
Put four dots the size of a "BB" on your hand. Use the fingers to apply one to each cheek, forehead, center of face. Blend out as applying to each area of the face. May also be used under the eyes as a concealer.
免責聲明
本網頁所載的所有資料、商標、標誌、圖像、短片、聲音檔案、連結及其他資料等(以下簡稱「資料」),只供參考之用,本公司將會隨時更改資料,並由本公司決定而不作另行通知。雖然本公司已盡力確保本網頁的資料準確性,但本公司不會明示或隱含保證該等資料均為準確無誤。本公司不會對任何錯誤或遺漏承擔責任