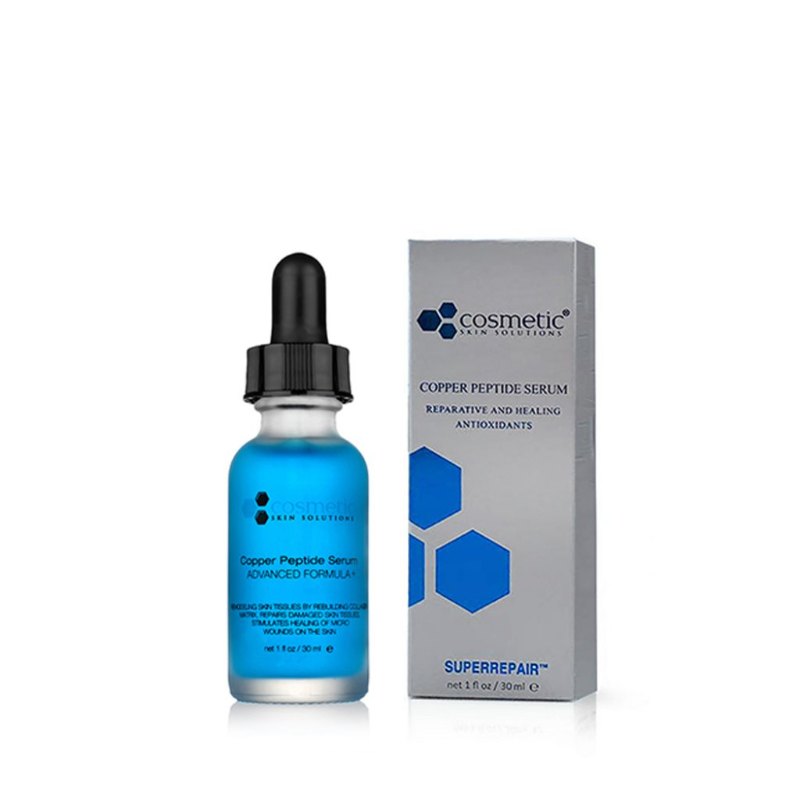 CSS Copper Peptide Serum 30ml
Model:
All countries
Product Description
CSS Copper Peptide Serum 30ml
Product Description
Cosmetic Skin Solutions , LLC copper peptide serum contains naturally occurring copper peptides with an amino acid complex widely documented by physicians and cosmetic scientists to rejuvenate skin cells in aging skin . promote collagen , significantly leading to less noticeable fine wrinkles and fine lines .
As age increases structural proteins within the skin will also naturally decrease . Copper peptides promote the production of Glycosaminoglycans , which are essential in maintaining plump , properly hydrated levels in skin . Since copper peptides are considered in the antioxidant group , copper peptides neutralize free radicals to prevent and correct cellular damage which is often the result caused by over exposure to environmental pollutants and free radicals .
Copper peptides promote collagen , reducing wrinkles and lines

Rejuvenates skin cells in aging skin

Maintains proper levels of hydration to promote plump skin

Neutralizes free radicals and helps to shield skin from UV radiation Matrixyl 3000 ( dual peptide ) clinically documented to reduce fine lines and fine wrinkles , rebuilding the cellular structural matrix

Biochemical mechanisms lead to ultimate anti - aging and healing properties to the skin
免責聲明
本網頁所載的所有資料、商標、標誌、圖像、短片、聲音檔案、連結及其他資料等(以下簡稱「資料」),只供參考之用,本公司將會隨時更改資料,並由本公司決定而不作另行通知。雖然本公司已盡力確保本網頁的資料準確性,但本公司不會明示或隱含保證該等資料均為準確無誤。本公司不會對任何錯誤或遺漏承擔責任。